CNI provide the lens includes spherical, aspheric and cylindrical lenses, with the anti-reflection and high-reflection coating covered on the surface. And the substrates are optional, including N-BK7, UV fused sllica, K9 and silicon. CNI can offer different kinds of lens upon your requests.

Aspherical lens has better curvature radius and the curvature radius changes with central axis, which can maintain good aberration correction, improve the optical quality and reduce the optical element. CNI use high precision milling and polishing equipment to ensure better surface profile, and provide Zygo interferometer and Taylor-Hobson contourgraph test report.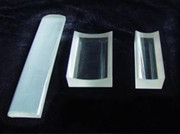 Cylindrical lens is an aspheric lens which is with the function of one dimensional amplification and can effectively reduce the spherical and chromatic aberration. It is designed to change the size of the imaging dimension, CNI optics' BK7 precision cylindrical lenses are manufactured from fine annealed optical glass and are polished to light tolerances to ensure minimum wavefront distortion.