Thermopile Laser Power Meter
Thermopile Laser Power Meter
CNI developed thermopile laser power meter, it is composed of TP100 header and TS/ HS series probe. This power meter can accurately measure various laser power, it is equipped with PC software to store measured data and portable built-in rechargeable battery, which is easy to operate.
CNI, as the international designer and manufacturer of laser system, fully understands customers' actual demand for laser power measurement and analysis, a few series of customized power measurement instrument can be offered. CNI sincerely provides with high configuration which can meet customers' demand of measurement and funding level based on the actual application understanding, technology and measuring instrument selection. In order to make customers gain higher cost performance, CNI offers modular selection which can easily extend configuration in future demand change.
---
◆Thermopile Power Meter New!
The head of thermoelectric laser power meter has TP100 model. It can be compatible with all probes of TS series and HS series, and can be connected to PC through USB. It has data recording, remote control, using sampling software to draw the trend chart, trend graph, statistics and average function, and long-term stability measurement.



 

Features:

Full touch LCD display

Wide range and high precision measurement

The spectral range covers the band of 0.19-20 μm

External rechargeable battery, long standby time

180 degree bracket design, free to adjust the operating angle

Minimum sample collection time interval 0.1s

Thermopile with high damage threshold

 

Main features:

Wavelength range: 0.19-25µm

Damage threshold: 45kW/

cm2
Power range: 2mW-200W
(2W/ 5W/ 15W/ 35W/ 50W/ 100W/ 200W optional)
Active area

diameter: 22/ 25mm

Continuous measurement time (<10W): Unlimited

Main features:

Wavelength range: 0.19-15µm

Damage threshold: 1.5kW/cm2

Power range: 100µW-5W (1W/ 5W optional)

Active area diameter: 9mm

SMA905/ FC fiber switch connector (Optional)

Main features:
---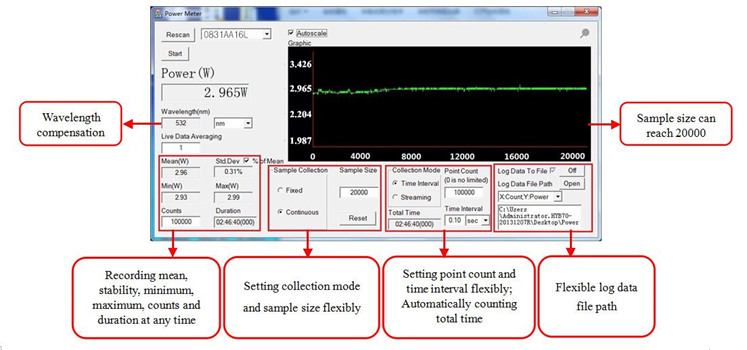 ---
◆Related Products
---
◆Notes
Over range using is forbidden.

The admirable incidence angle of the laser on the surface of the detector is zero.

The calibration date of this power meter is written on the qualified cards. It need to be calibrated for every year.

The warranty time is one year